If you want to see most of the burning issues of today expressed in a play written in 1939, you can go no further than The Little Foxes by Lillian Hellman, acclaimed as the classic American drama. You have the rights of women, or, rather, lack of rights thereof, the plight of the so-called emancipated former slaves, the struggle of the exploited workers and the avarice of the wealthy capitalist bosses, even the environmental protection, and all of that in the sultry American South of the 1900's. The title of the play is taken from Shir haShirim (The Song of Songs, widely known as The Song of Solomon), 2:15: "Seize for us foxes, the little foxes, that spoil our vineyard, for our vineyard has just become to blossom."
Regina, the main character, is born into a wealthy family, yet, when her brothers manage to parlay their inheritance into independent fortunes, she, according to the law, is not allowed to control her part of it, since only men are considered legal heirs. She is reduced to manipulating her weak-willed, sickly, and somewhat not very intelligent husband to achieve her goals. Gradually, she turns from a disenfranchised southern belle into a ruthless predator who is willing to sacrifice her daughter's happiness to her own boundless greed. The inimitable Bette Davis portrays this transformation in a tragic scene where Regina watches her husband die of heart attack without making an effort to help him:
Hellman herself has indicated that the little foxes metaphor represents Regina's family, the Hubbards, whose insatiable avarice spoils the beautiful South of her Alabama childhood and youth. Regina and her brothers are modeled after Hellman's own relatives, especially her maternal grandmother. Yet the metaphor also pertains to the character of Regina herself, transformed by circumstances and family environment from a blossoming vineyard to a money-hungry beast.
Lillian Hellman herself wrote the screenplay for this 1941 film which collected more awards than any other one in the history of Oscars. She did not write a libretto for Marc Blitzstein's opera Regina, based on the play, but commented favorably, "… yet the bite and power of the music comments on the people in a wonderfully witty way, and the sad sweetness of the music for the "good characters" makes them better." The good characters include, besides Regina's hapless husband, her daughter Alexandra, who is being forced to marry her first cousin Leo, in order for Regina and her brothers to consolidate family capitals for building a cotton mill. Alexandra rebels, and both her father and her aunt Birdie, also a good character, albeit an alcoholic, support her. Another good character is the "emancipated" Black servant Addie who is treating Alexandra with love and caring, contrary to the girl's mother Regina. Here is the famous Rain Quarter from the opera, showcasing all four "good characters":
Reprising the title metaphor, Alexandra declares to her mother that she will not watch her be "the one who eats the earth." Having achieved her goal of being wealthy, Regina loses the affection of her daughter, buries her husband, and alienates her brothers. At the end, the fox is alone.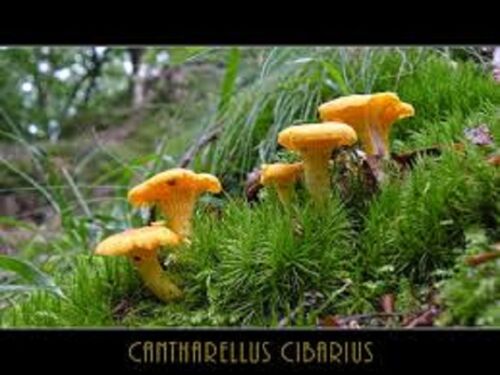 What does this celebrated play have to do with my recipe? The title, Beautiful People! Cantharellus Cibarius, or Golden Chanterelle, are called in Russian Little Foxes, and for more than 40 years in the US I have been kvetching (complaining) that I remember the taste of the Little Foxes in sour cream on the bed of fried potatoes but can't find similar mushrooms here. No wonder – they don't grow in the tropics, and to order them from somewhere, I had to know the name which I didn't. Until one day, that is, when my husband ventured into a new huge Chinese emporium called China City that features an impressive assortment of extremely reasonably priced fresh fish, all kinds of exotic fresh and dried fruit and vegetables, and – mushrooms! Having heard from me for years about the soft flesh and delicate taste of the Little Foxes, he bought two different little packages of mushrooms, having determined the softness by squeezing them.
If any of my dear blogofriends can tell me what they are called, I will be grateful, but you can see, Beautiful People that they do not look like Chanterelle, or Little Foxes. I did not want to disappoint the Boss, who was very proud of his discovery, so this is what I did:
The result was delectable. I have since replicated my experiment with oyster mushrooms, with the same delicious result. All you have to do, Beautiful People, is sauté onions and garlic, add mushrooms, sauté for a few minutes, add dry white wine and a couple of tablespoons of real or fake sour cream, season with salt and pepper, and leave it simmering while you fry potatoes. The original recipe calls for regular potatoes but I use sweet potatoes as much less hypoglycemic. Serve Little Foxes on the bed of potatoes, garnish with fresh chopped cilantro, don't forget a glass of chilled wine, preferably the same you have used for cooking, and feel so much more satisfied than outrageously wealthy Regina Hubbard.
INGREDIENTS
2 cups of Golden Chanterelle mushrooms or any other soft mushrooms
1/2 onion, sliced
2 – 3 garlic cloves, diced
1/2 cup dry white wine
2 tablespoons of sour cream or substitute
Salt and pepper to taste
Chopped fresh cilantro to garnish
2 large potatoes or sweet potatoes
PROCEDURE
Sauté onions and garlic until soft and translucent.
Add mushrooms, cut into bite size pieces, sauté together for a few minutes, until mushrooms are almost ready.
Add wine and sour cream, season with salt and pepper, stir, reduce heat to simmering.
Fry potatoes in bite size slices.
Serve mushrooms on the bed of potatoes, garnish with cilantro.
Enjoy!