To all of you, Beautiful People, who had wished my oven speedy recovery, I hasten to report that it has finally gotten repaired. Meanwhile, right before it went on strike last week, I had been planning to try out a new Pesach (Passover) dessert recipe, while, at the same time, getting rid of sundry leftovers in my refrigerator that cannot be used on Pesach. To clarify, theoretically they can be used, but not when they come from packages open before kitchen is completely switched to Pesach mode, i.e. contains no Chometz (leaven), no utensils that have been used with leaven, and no surfaces that have been touched by leaven during the year.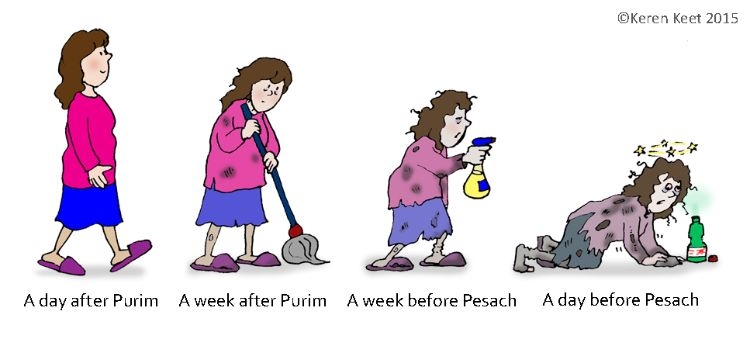 We start this insane cleaning process (not only the kitchen, but the entire house should be completely clean of even a tiny cookie crumb your child dropped between cushions on the couch) immediately after Purim, and this is what we usually look like the day before Passover. Then we take a deep breath, go make ourselves pretty, dress in our finest, and fulfill the commandment to rejoice.
How is Passover food different from the food during the year? It contains no leaven and no products that have a potential to get leavened during preparation, such as wheat, spelt, or oat flour.
And so I happily mixed leftover unsweetened coconut shreds with coconut flour, brown sugar, vanilla extract, and unsweetened dark cocoa powder.
I tasted it for sweetness and pronounced, "This is good."
I whipped two egg whites to stiff peaks (dear vegan and vegetarian friends, we don't use beans on Passover, so aquafaba is out of question). Time to pre-heat the oven, I thought, and pressed the button.
It took me a few minutes to marry the dry ingredients with the whipped egg whites and to get the baking sheet misted with oil and ready, when I glanced at the stove controls. It still read "Pre-heat." How much longer will that heat be "pre,"thought I, and stuck my hand inside the oven. Don't worry, Beautiful People, nothing happened to my hand because inside the oven the temperature was the same as outside – nice and cool. Thus, I found myself in a quandary: do I throw away a perfectly good beginning of an experimental dessert?
Necessity, as the old cliche goes, is the mother of inventions, and quandary is not a place where I stay long.
I simply used the batter to bake Coconut Chocolate Macaroon muffins in my little cute Cupcake Bakery. It took about 15 minutes for two batches, which was faster than it would've taken in the oven, and they came out moist and delicious. Now that my oven is all fixed and raring to go, I will definitely make them as cookies for Pesach!
INGREDIENTS
11/3 cups unsweetened shredded coconut
2/3 cup brown sugar
2 tablespoons coconut flour
1 tablespoon unsweetened cocoa powder
Pinch of salt
2 large egg whites, room temperature
1/2 teaspoon vanilla extract
PROCEDURE
Preheat oven to 325 F. Mist baking sheet with oil.
Whip egg whites with salt until peaked.
Combine dry ingredients. Add whipped egg whites and vanilla, mix gently, but thoroughly.
Drop by rounded teaspoonfuls onto baking sheet. Bake for 18-20 minutes or until golden brown. Cool on wire rack.
Enjoy!